I woke this morning feeling heavy, tired, and a little raw.
Yesterday was meant to be a good day and overall it was. However the change of weather from sunny to crazy blizzard and strong winds, my shame at having to tally my calorie intake after over eating yesterday, as well as my guilt for not working out that day was nothing to the news I received last night; which makes me tear up as I write this-- which in turn is making people in the coffee shop uncomfortable--but who cares.
Last night I found out that our beloved family dog, Lucky had passed away.
beautiful Lucky our purebred Dalmation. She probably deserved a better life than she got but she never complained. I love you.
The initial shock and monotone feeling of the news soon fell away to tears and a snotty nose followed by the feeling of regret for never being home enough to spend quality time with her.
It brought me to thinking about regrets and somehow self-punishment. (Although I knew I couldn't have done anything to help her in her old age, I somehow felt responsible.) I thought about how I'm not working to my full potential and how I continue to sabotage myself with the food I choose (like yesterday.)
So this morning, being my day off I decided to find a long, moderate yet challenging hike. I needed to prove to myself that I could do a harder hike, not regret not finishing it, stop limiting myself, make up for my bad food choices yesterday and I needed time to be alone to mourn.
Due to the terrible weather (snow showers and over 60mph winds in late May!!) I changed my mind in going up to June Lake again and decided to stay in lower elevation.
That led me to find the
Lower Rock Creek trail
.
My jog this morning was nothing to this hike. Meant to be a bike trail but open to foot traffic this trail is 4.6 miles long--one way, starting at 6,500 ft and dropping around 1,400 ft in elevation.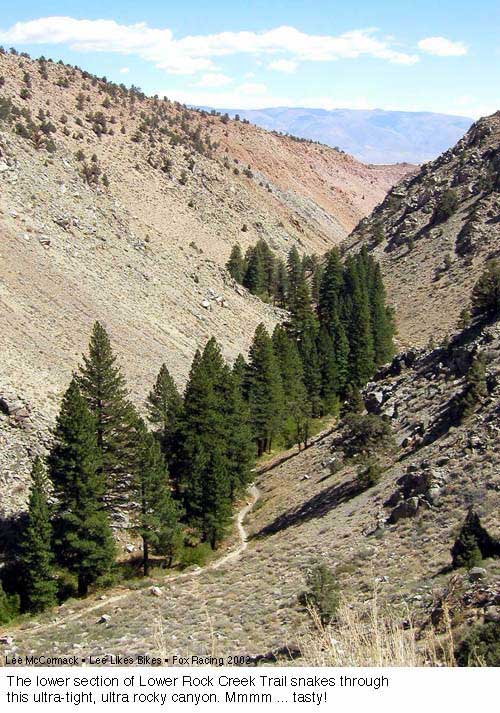 This is not my image since I didn't take my camera but this is the start of the trail following the Rock creek gorge all the way to the town of Paradise
I decided to layer up (knowing that the snow filled clouds would soon come), left my camera in the car, put on my headphones and turned on my mp3 to the
O' Brother where art Thou
soundtrack.
After a few minutes of walking downhill it dawned on me that I was going to have to hike back UP this way AFTER walking downhill for 4.6 miles.
I considered turning back at some point but some angry, teary, and determined voice told me to continue. It lectured me about how I always do only what was easy and wasn't *I* the one who said I needed to challenge myself, and didn't challenges mean it's not supposed to be easy.
So after an and hour and a half of hiking downhill I met the end of the trail and turned around. At this point the wind picked up and it started snow showering. Thankfully I brought my rain coat and put it on. The snow shower forced me to pick up my pace and after a certain amount of time I switched my music to the more upbeat
Hairspray
soundtrack (the one with John Travolta dressed as a woman).
Either because I was more pre-occupied with the weather, or maybe because I had to look down a lot of the time to make sure I didn't trip over a rock but I didn't feel the 1,400 ft elevation climb as much as I
dreaded
thought I would.
Ironically (or maybe just coincidentally) enough right at the end of the soundtrack, the time where my energy was finally dying and I had taken off and re-put on my coat about three times, the song "Come so Far" came on and I couldn't help but start laughing.
">
The lyrics for the chorus are:
"I know we've come so far,
but we've got so far to go.."
When this came on I couldn't help but say out loud "No sh*t my friend. No sh*t." LOL. The craziest part was that as the song was ending I glanced up and saw in front of me, the entrance to the trail.
I had made it!
I couldn't believe it. I had no idea I was so close to the end and I hadn't slowed down that much either. I was completely amazed.
In the end I completed a 9 mile hike (starting downhill and looping back uphill) in 3 hours and 20 minutes!
I don't think I'd ever been so fast!
I know this doesn't make sense but I did it in Lucky's honor. I didn't want to wallow in misery with a pastry and instead wanted to do something else that would release my feelings and benefit me.
"I'll live a better life for both of us. And I'm sorry I couldn't have you here with me Lucky."
That was my victory. My victory over Tragedy.
Thank you,
-w0rld